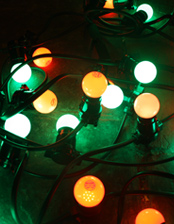 Festoon Lighting Festoons are made to order using rubber or PVC cable up to 100m in length with lampholders generally spaced between 25cm and 1m apart.
The lampholders are bayonet cap fittings BC (B22) and can be supplied with traditional tungsten lamps or LED golf ball lamps. The LED lamps use only 1 watt of power and have much greater reliability compared to tungsten.
Festoon is supplied with or without lamps. All festoon is made to order, so please contact us with the length required, number of lampholders, length from last lampholder to power supply.
We have also supplied plaster cornice with integrated festoon lighting. Please ask for details.