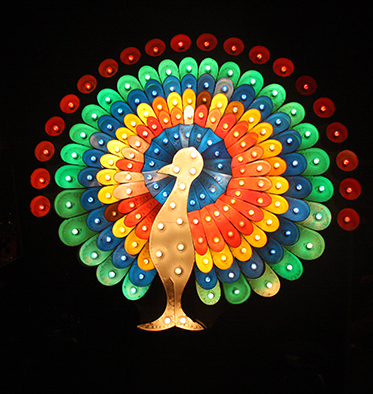 Blackpool Illumination Peacock
Description: Very few examples from the glory days of Blackpool illuminations have survived as they were usually scrapped. This one was salvaged over 10 years ago and is about 30 years old. It's arguably one of the finest examples of a vintage Blackpool available. A stunning piece of history.
The steel frame with timber (MDF) base with plastic angle built up is typical of the way Blackpool Illuminations have been constructed over the years. This peacock has a control unit which gradually builds up the lights and ends with a scintillating finish.
There are over 200 lamps and is sold with full electrical re-wire.
Dimension: 183cm high and 190cm wide
Fixings: Lead and plug
Price: £6500 inc. UK delivery and installation.